Pamiętacie fioletowy lakier Lemax, który recenzowałam tutaj:
klik
i który wzbudził wiele pozytywnych emocji? Tym razem mam dla was swatche innego koloru z serii
Kwadrat
. Jest to ceglasta czerwień, płomienna i trochę jesienna. Lakier jest kremowo-żelowy, nie posiada numerka ani nazwy; do dobrego krycia starczą dwie grubsze warstwy, które schną w ok. 10 minut (nakładałam je jedna po drugiej). Przez jakiś czas są podatne na wgniecenia, ale nie jest to pół dnia ;) Może fiolet zrobił na mnie większe wrażenie, ale ten też jest niczego sobie, i pamiętajcie: 2, 60 zł za 9 ml ;) 7, 5/10 pkt.
---
Do you remember a purple nail enamel by Lemax, which I reviewed here:
click
and how it got many positive opinions? This time I have swatches of another Lemax nail enamel of the
Kwadrat
series. It's a brick red, fiery and slightly autumn-like. This nail polish is creamy-gelly and again doesn't have a name or number. You'll need two thicker coats to get opacity. They are dry in about 10 minutes (I was painting them one after another). They are prone to indentations for some time, but it isn't half a day ;) Maybe the purple made bigger impression on me but it's OK too and remember: 2, 60 zloty for 9 ml ;) 7, 5/10 points :)
bez top coatu/without a top coat: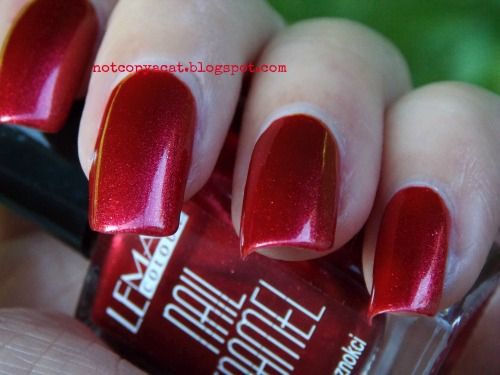 z bezbarwnym top coatem/with a clear top coat: