Co do lakieru Golden Rose z serii Matte, nr 26, mam mieszane odczucia: z jednej strony świetny odcień pudrowego różu i ciekawe, jakby kredowe wykończenie, a z drugiej nie do końca dobra formuła. Lakier smuży, potrzebowałam czterech warstw, by zdjęcia wyszły bez prześwitów (powinny wam starczyć trzy grubsze, gdyż ja mam w zwyczaju malować cienko, a więcej warstw). Samopoziomowanie się - dość dobre. Schnięcie jest praktycznie natychmiastowe, lakier już w trakcie malowania paznokcia potrafi zasychać, natomiast może załapać wgniecenia (powiedzmy do godziny od pomalowania). Świetna buteleczka z matowego szkła i dobry pędzelek to na pewno atuty tego produktu. Ten mat dostaje ode mnie 6,75 pkt na dziesięć, bo podoba mi się odcień i wykończenie.
Pokażę wam, jak nr 26 wygląda z bezbarwnym top coatem, gdyż trochę go postemplowałam. Gotowe na słit kąpiel w różowych banieczkach? Do stemplowania użyłam holograficznych lakierów Colour Alike, Ar-buziak i Wata cukrowa oraz płytki Top Choice/Rendezvous, m35. Proszę bardzo :)
----
When it comes to Golden Rose nail polish of Matte series, nr 26, I have mixed feelings: on the one hand a great shade, powdery pink, chalk-like finish, on the other its formula isn't truly good. This nail lacquer smudges, I needed 4 coats for the photos to look well, without smudging (you may use 3 thicker ones as I like painting thin coats). Self leveling is quite good. Drying time is almost immediate, this nail polish can dry during painting your nail. It may get indentations for some time (about an hour). Great bottle made of matte glass and a good brush are advantages. This matte gets 6,75 points out of 10 because I like the shade and finish.
I'll show you nr 26 glossy (with a clear top coat) because I stamped a bit on it. Are you ready for a sweet bath in pink bubbles? I used holographic nail polishes by Colour Alike for stamping, these are: Ar-buziak and Wata cukrowa, also Top Choice/Rendezvous plate, m35. Here you are :)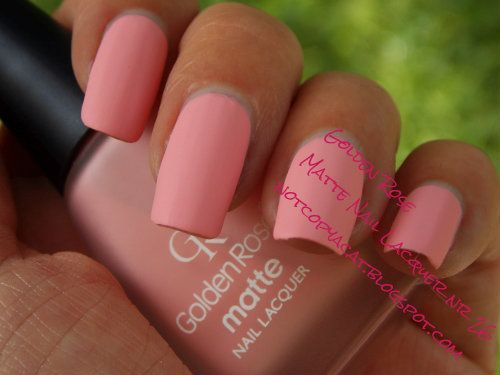 Wolicie wersję tego lakieru z połyskiem, czy bez?
---
Do you prefer this nail polish matte or glossy?